Videoconferencing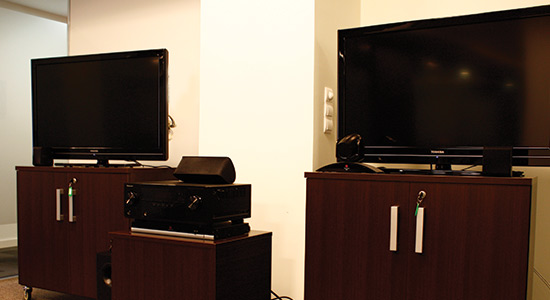 In an increasingly global economy where the reaction time is vital for competitiveness, videoconferencing is imperative to conduct business in a cost effective and economic manner, reducing costs and time travel.
This way you can share information with your clients without leaving your hometown.
Advantages

Reduced expenses: travel expenses for airline tickets or car rental and accommodation costs;
Monetization of time: the videoconference call is held whenever the need arises;
Ease in communicating: allows the participation of a larger number of people, increases interactivity and simultaneous sharing of important work documents;
Reduction in CO2 emissions: by avoiding the use of transports such as airplane or car;
Globally uses the most modern technology which reflects in the outstanding quality of the service we offer. Via IP or ISDN technology, you can contact with six different places at the same time*.

Check the conditions available in Lisbon and Madrid
LISBON
MADRID
Equipament
Polycom QDX6000 + 2 TV's TOSHIBA 40"
SONY PCSG50
Type of Connection
Point to Poing
Multipoint**
Connection
IP*
IP / ISDN
Image Recording
CD/DVD
CD / DVD / SONY MM
Data Sharing
Yes
Yes
Occupancy
4/6 people in a U Shape
17 people in a Conference Table (by request)
25 people in an Audience (by request)
12 people in a Conference Table
Offer included
Mineral Water, coffee and WI-FI
Mineral Water, coffee and WI-FI
*ISDN - Connection available only in our Madrid Center.
** Up to 6 multipoint destinations.

Get to know the meeting rooms at the forefront of innovation in the heart of Lisbon and Madrid.

+ info
Documentos